Fast-Track & Tailored Business Consulting
We have capabilities, resources, people, knowledge and tools to digitally transform your business processes and introduce new touch-points to help you thrive and travel to the digital nirvana era with a speed of the light,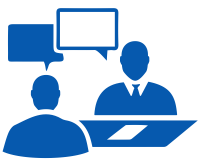 IT Consulting
We define, design, and execute IT services and product strategies from ideation to fruition. With our deep domain expertise and hands-on experience in tailoring the power of mobility, Big Data, Machine Learning, Artificial Intelligence, and other next-gen technologies to your business goals, we revamp your enterprise architecture and customer experience platforms to deliver customer delight
Read More

Staff Augmentation
With decade long collaboration with prime vendors, clients, customers, we can quickly sort out your long-term, niche, short-term resource requirements. We have a quality resource pool with a successful track of completing assignments without any discontinuity.
Read More
Halcyon approaches business consulting with an agile approach. We bring business technologists to analyze every idea and use case before sending it to the lab for realization. With our expertise in complex technologies, tools, resources, we have developed business, IT, and people accelerators to help businesses accelerate go-to-market, increases business agility, reduce costs, and maximize revenue and growth.
We give clear and concise advice on the strategies and choose the right IT resources to execute those business strategies, keeping costs minimal and ROI maximum. Our digital business forward-thinking approach help businesses transform and embrace digital, to become a key driver in the modern platform economy and elevate themselves as a digital tour-de-force.
We bring in the perspective of employees, customers, and stakeholders to plan and implement operations, business, and enterprise architecture transformation. Roadmaps, resource planning, market understanding (short and long term gains), revenue opportunities are quickly realized to translate thought process to strategic, clear, concise designs that communicate your new story to the digital audience.
We perform future-casting, business planning and modeling, find growth opportunities, revamp and modernize business processes, reimagine technology stack, strategies, and fill the gaps with the power of our large resource pool.
Our staff augmentation practice collaborate effective with business technologists to select characters, and not resources, which can always contribute more and bring everything to the table to complete business revamping, enablement's, with an innovative touch.
Begin your operational excellence, futuristic customer experience strategy focus, innovation today with our fully customized business consulting suite.