Why Node.js has Gained Momentum in
Application Development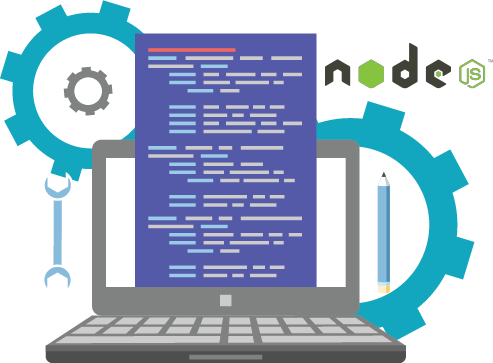 Fulfilling today's business and customer demands require building real-time applications which can run fast and deliver solutions, irrespective of the device or location or touchpoint. Node.js was developed to meet such requirements. It allows building server-side applications and considered as one of the highly efficient platforms for application development today (both web and mobile). From startups to enterprise, customers prefer this open-source, cross-platform run-time platform.
Halcyon is a professional CMMI Level 3 driven Node.js Development Company with a proven track record of building error-free Node.js applications that run seamlessly across devices, platforms, and touchpoints. With our dedicated Node.js business and technical team, clients blur the line between digital and physical experiences for their employees, clients, and stakeholders to move ahead in the innovation and digital transformation curve.
How Halcyon Acts As A IT Consulting Accelerator In Node.js Development Practice
Customer-Centric Engagement Models (Pay-as-you-develop)

Agile, Scrum, and DevOps Methodologies

Deep industry and technical linguistic resource team (To help develop solution as per current needs and regulations for competitive edge)

Manual and automated Quality Assurance Process

CMMI Level 3 driven Infrastructure, Security, and Client Confidentiality Management Practice (100% Confidentiality)

Capability to use Artificial Intelligence, Machine Learning, Design Thinking, Blockchain, IoT to develop innovative, fresh, market-savvy use cases and applications

80+ IT Professionals served more than 1000+ clients across 20+ Business Verticals, LOBs in 50+ Countries in a 8000 sq.ft secure development area
Our Node.js Development Service & Solution Suite
Business and Technical Consulting

Requirement analysis, strategy development, process reengineering

Node.js Website and Web App Development (Single Page Apps with Parallax animations)

Node.js Mobile Application Development

Application Migration and Integration (From and To Node.js framework including AWS, Azure, REST API)

Node.js Back end development with API and Database Development

Real-time Business Intelligence, Custom Monitors Development

Large Enterprise Portal Development (CMS)

UI/UX/CX Development

IoT, Real-time data streaming apps (With Reach.js, Hapi.js, Socket.io) for automotive, retail, healthcare
Do you have any questions or require a free assessment as to which technology stack is best suitable from cost, time, and business perspective? Please click on the below button and fill the 1-minute form. We will get back to you and provide a friendly, business-centric Node.js consulting