Maintenance & Support Services
Halcyon Technologies Offshore maintenance Services provides reliable and timely support to your company which are very essential for uninterrupted Business operations. We provide comprehensive maintenance and total support services which help you maximize your technology investments for optimal business value.
Halcyon Technologies provide complete, yet flexible offshore, maintenance and support options to meet your requirement. As most of the Businesses these days are highly dependent on IT Services, Halcyon Technologies Offshore support company provide Application, maintenance services and IT Solutions which ensures your business applications are managed seamlessly, provide secured High Performance platform and enhance your business by transforming critical applications to meet changing business needs.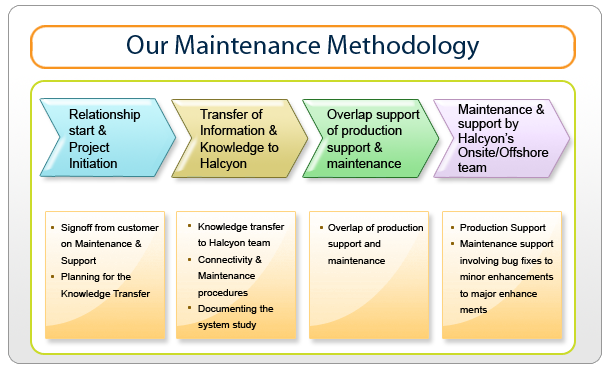 Halcyon Technologies Offshore Maintenance Services
Identify and rectify the corrective, incidental issues and errors
Plan and implement the action to avoid future problems based upon past incidents, anticipation and feedback, and continuous improvement
Provide adoptions/changes to applications resulting due to external environment Carry out functional modifications
24/7 Helpdesk Support Aims at
Settling the request for change based on the priority through corrective, preventive, adaptive and perfective maintenance
Confirming the receipt, and acknowledgement
Incident Management Solutions include
Modification Management
Maintenance and renewal
Program management and distribution Dedicated team 24/7 support
Lower cost resources
Focus on Core activity with in-house team
Rapid time to realize and Time to Market the software product
Service Level Agreement assurance
Legacy product maintenance
Component Development and upgradation
Support to multiple platform versions
Localization and customization of core products