Halcyon Technologies HealthCare Management Services provide Onshore and Offshore assistance to large and medium size Organizations including Individual practitioners, improves efficiency and Quality of Medical facilities delivered in Hospitals. Our HealthCare Solutions are collaboratively developed by experts, specialists in Information Technology and our existing Key customers.
Halcyon's HealthCare Management solutions are designed to enhance safety and efficiency of operational performance at all levels of HealthCare process, ensuring you to provide Quality service which improves safety of the patient, connecting patients to Doctor, minimize risk of Human errors in lab, reduce accidental deaths, periodic alerts about shortage of nurses, increase in productivity by serving Maximum number of patients and at the same time improving quality of service provided.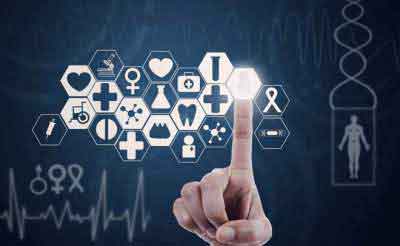 Halcyon Technologies understands the challenges faced by HealthCare Industry due to increased government regulations, e-business challenges, raise in patient expectations and demand of cost reduction.
Partnering with Halcyon Technologies means a lot of difference in Key Functional Areas which include:

Hospital Security and Admission
Facilities and Hospitality management
Case sheet management
Appointment and scheduling, In/Out patient Management, Staff Scheduling
Pharmacy Department and stores
Nursing ward, Housekeeping, Laundry, Diet & Kitchen
Emergency, Operation theater management
Attendance recording devices, Biometric/ Smart cards, Barcode & RFID
Patient Monitoring System
Laboratory & Blood Bank Management
General ledger, Accounts, Payroll, Hospital finances, Fixed assets and Material management
HR Management
Patient Billing & Help desk

Benefits by Halcyon HealthCare Management Application:

Precise identification of patient and validation of treatment/ Surgery/ Therapy
Discard Human (nurses/Doctors) errors made in Medication, admin, Blood transfusion
Reduction of errors in patient billing
Maintain Entire Track record of the current treatment of patient, and previous medical record
Accurate Specimen Collection, Storage and Identification
Keeping a track of Hospital Assets
Integrated management system keeps complete track of Hospital information and Management
Improve Quality of care and service, develop relation between Doctor and patient
Enhance Operational Efficiencies and control regulating costs
Latest Technology Integration
Halcyon Technologies worked on multiple HealthCare Oriented Projects in USA and has extensive Healthcare domain knowledge and offers entire in-demand services specific to industry. Health Management Service brings about collaboration between doctors and patients which can be accessed online and offline.